June 24, 2010
Jules: Looks like me an Vincent caught you boys at breakfast. Sorry about that. Whatcha havin'?

Brett: Hamburgers.

Jules: Hamburgers! The cornerstone of any nutritious breakfast. What kind of hamburgers?

Brett: Ch-cheeseburgers.

Jules: No, no no, where'd you get 'em? McDonalds? Wendy's? Jack in the Box? Where?

Brett: Big Kahuna Burger.

Jules: Big Kahuna Burger. That's that Hawaiian burger joint. I hear they got some tasty burgers. I ain't never had one myself. How are they?

Brett: They're good.

Jules: Mind if I try one of yours? This is yours here, right?

[Picks up burger and takes a bite]

Jules: Mmm-mmmm. That is a tasty burger. Vincent, ever have a Big Kahuna Burger?

[Vincent shakes his head]

Jules: Wanna bite? They're real tasty.

Vincent: Ain't hungry.

Jules: Well, if you like burgers give 'em a try sometime. I can't usually get 'em myself because my girlfriend's a vegetarian which pretty much makes me a vegetarian. But I do love the taste of a good burger. Mm-mm-mm. You know what they call a Quarter Pounder with cheese in France?

Brett: No.

Jules: Tell 'em, Vincent.

Vincent: A Royale with cheese.

Jules: A Royale with cheese! You know why they call it that?

Brett: Because of the metric system?

Jules: Check out the big brain on Brett! You're a smart motherfucker. That's right. The metric system.

—Pulp Fiction

*
Our D-Bag du Jour is Cameron Selogie, restauranteur from Phoenix. Mr. Selogie has found an interesting way to "
honor
" the World Cup:
We thought that since the World Cup was in Africa that the lion burger might be interesting for some of our more adventurous customers.
That's right, Mr. Selogie's culinary creativity apparently tends toward the ridiculous, as he believes it is A-OK to serve lion meat, because lions are "protected, not endangered" and the meat comes from a lion raised on a farm in the U.S.
Now, I grew up on a farm that raised cattle and pigs, and I was active in 4-H and FFA, showing livestock of all types at fairs. I was even on livestock and meat judging teams (trust me, that was a big deal in west Nebraska). Although I've never butchered an animal other than a deer, I've toured a number of meatpacking plants, and my family (good Germans) made sausage every fall from animals we raised and took to the local butcher shop for processing. My family was a hunting family, and even though I've given that sport up years ago, my brother and father still hunt, and I still enjoy the meals made from the pheasants and deer they shoot. I've also eaten and enjoyed a fair number of more exotic meats (
e.g.
, ostrich, bison, rabbit, snake, elk). And, I'm a big lover of grilled meat. So, I'm not some soft-hearted vegetarian (not that there's anything wrong with that!).
That all being said ... LION?!? Seriously? Out of all the creatures we eat, lion really crosses the line. I know our eating choices are somewhat arbitrary, but the fact is, we do draw distinctions—tuna is OK, dolphin is out; Bambi is OK, Fido is taboo. I would like to think that we can draw the line with the noble, graceful, and intelligent cat family safely on the "DO NOT EAT" side.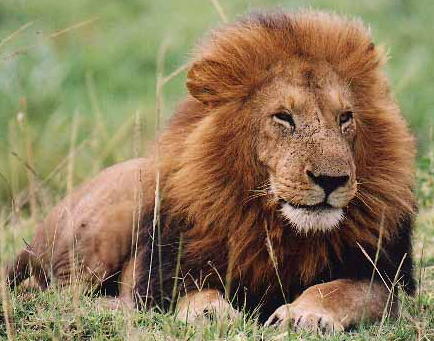 ----------------------------------------------------
* ADDENDUM (25 June 2010): As an anonymous commentor pointed out, this post cried out for a Pulp Fiction quote in the lead off spot. This embarrassing oversight has now been rectified. I apologize for the error.